HPE SimpliVity 380 Gen10 G Node (R2G96A)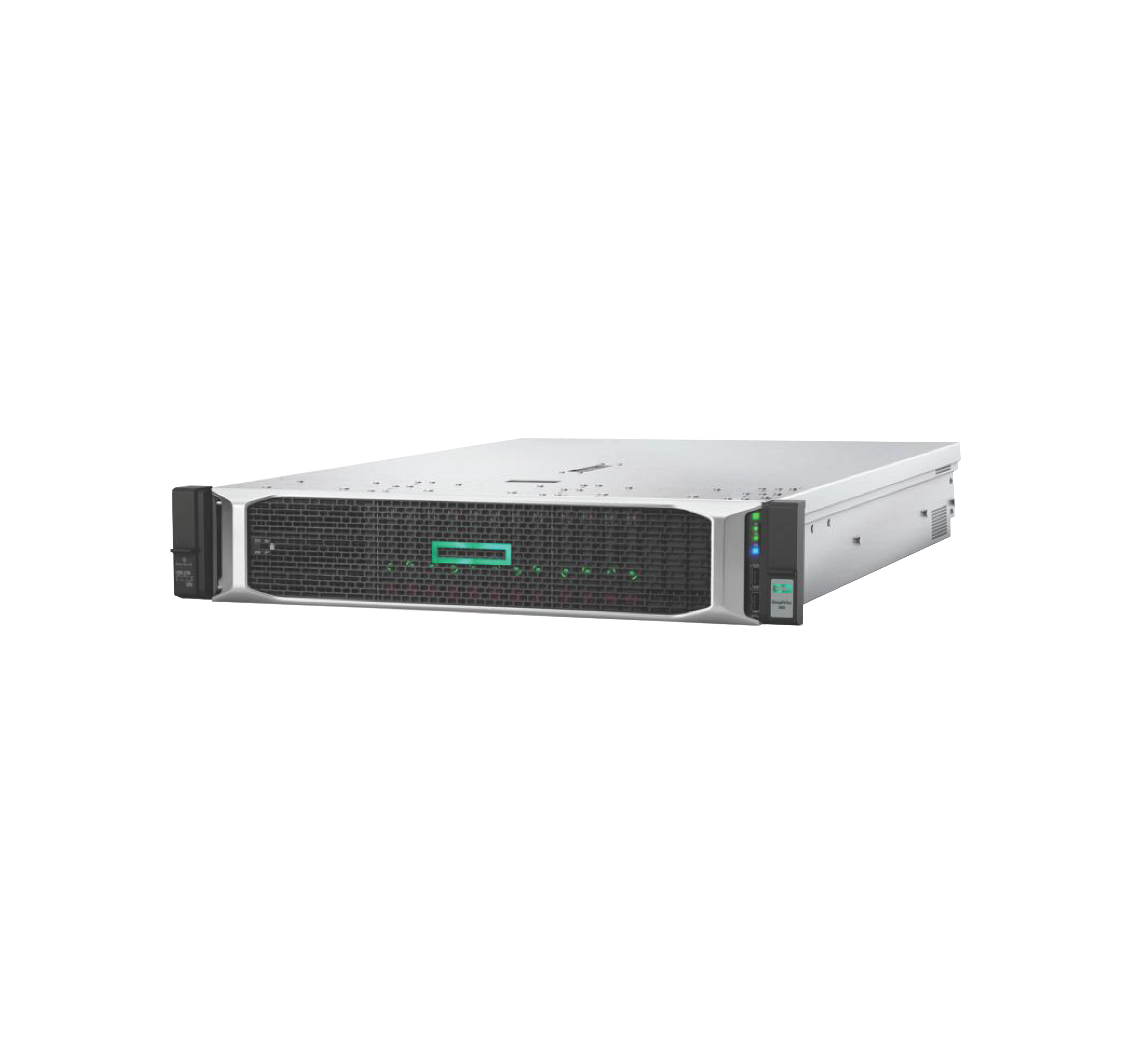 Is complexity in your data center slowing you down?

HPE SimpliVity 380 gives IT organizations the agility and economics of the cloud with the control and governance of onpremises IT. It delivers a powerhouse hyperconverged solution optimized to support the world's most efficient and resilient data centers. This solution dramatically simplifies IT by combining infrastructure and advanced data services for virtualized workloads on a single device. Delivered on HPE ProLiant DL380 servers, the HPE SimpliVity 380 is a compact, scalable, 2U rackmounted building block that consolidates server, storage, and storage networking services. By delivering a complete set of advanced functionalities, SimpliVity solutions enable dramatic improvements in the operational efficiency, management, protection, and performance of all virtualized workloads for a fraction of the cost and complexity compared to today's traditional infrastructure stack.
HPE SimpliVity 380 supports VMware ESXi 7.0.

HPE SimpliVity 380 Gen10 G now supports x24 SSD kits with new 32 TB licenses and Read Intensive drives.

HPE SimpliVity 380 G / 380 H Platforms supports the redesigned "Network Choice" server which provides greater flexibility in the primary networking selection.

HPE SimpliVity now supports HPE StoreOnce, or customers who need a simple, cost effective, efficient, archiving solution to centralize data, lower costs, or adhere to long term backup policies.

Backup via Cloud Bank and/or HPE Cloud Volumes.
1. Complete Hyperconvergence in a Fully Integrated System
The HPE SimpliVity 380 combines x86 resources, storage, and storage networking in a single hyperconverged system with advanced functionality.
Simplifies management and delivers outstanding cost efficiency and agility.
Increased visibility and control of the entire virtualized environment via unified management.
Delivers orchestrated, simultaneous deployment and upgrades so you can deploy more simply and respond to business needs faster.
Unify virtual machines and infrastructure tasks to reduce virtual machine (VM) sprawl and over-provisioning.
2. Peak and Predictable Performance
The HPE SimpliVity 380 delivers an all-flash solution delivering predictable and near linear performance at near-wire speeds while reducing latency.
Hardware driven in-line deduplication, compression, and optimization helps reduce I/O and network traffic while dramatically shrinking backup window requirements.
3. On Demand Scale-in and Scale-out
The HPE SimpliVity 380 can easily expand or contract configurations as your needs change.
Each node supports a large number of fully protected virtual machines (VMs).
A networked collection of nodes at both local and remote sites are managed as a single entity.
Flexibility to expand node storage and add a second CPU (with additional memory) to 1P nodes within the field.
Federations scale up to 96 nodes. Heterogenous federation support (clusters HPE SimpliVity 380 Gen9/Gen10 and legacy HPE SimpliVity can be federated with clusters of HPE SimpliVity 380 G, HPE SimpliVity 325 Gen10 and HPE SimpliVity 2600 Gen10).
4. Advanced Data Services
The HPE SimpliVity 380 delivers always-on deduplication and compression to significantly reduce capacity utilization.
Built-in resiliency, backup, and disaster recovery for enterprise-grade data protection.
Policy-based, virtual machine (VM) centric management to streamline operations.
HPE SimpliVity RapidDR is a Disaster Recovery(DR) orchestration tool for HPE SimpliVity platforms to simplify, automate, and accelerate offsite DR for rapid recovery of applications.
Optional Data at Rest Encryption (DARE) support.
Technical Specifications
HPE SimpliVity 380 Gen10 G Node (R2G96A)
1 or 2 Intel Xeon® Scalable Processors, depending on configuration
8 to 28 cores per processor, depending on processor selected
128 GB to 3,072 GB per node, depending on configuration
1. Select one storage kit for the node
2. Choose either read intensive or mixed use drive configuration
Read Intensive:
Qty 1 of Q9Y49A (6×1.92 TB) is required for HPE SimpliVity 380 G 6x SSD
Qty 2 of R2Z28A (4×1.92 TB) is required for HPE SimpliVity 380 G 8x SSD
Qty 3 of R2Z28A (4×1.92 TB) is required for HPE SimpliVity 380 G 12x SSD
Qty 4 of R2Z28A (4×1.92 TB) is required for HPE SimpliVity 380 G 16x SSD
Qty 6 of R2Z28A (4×1.92 TB) is required for HPE SimpliVity 380 G 24x SSD
Ethernet 1Gb LOM embedded, 10Gb FLOM
HPE 800W FS Plat Hot Plug Power Supply Kit
HPE 800W FS -48VDC Hot Plug Power Supply Kit
HPE 800W FS Titanium Hot Plug Power Supply Kit
HPE 800W FS Universal Hot Plug Power Supply Kit
HPE 1600W FS Platinum Hot Plug LH Power Supply Kit
Server Warranty includes 3-year parts, 3-year labor, 3-year onsite support with next business day response. Additional information regarding worldwide limited warranty and technical support is available at: https://techlibrary.hpe.com/us/en/enterprise/servers/warranty/
Most, if not all IT organizations are on a digital transformation journey — each at a different stage. With over 11,000 IT projects conducted and 1.4 million customer interactions each year, HPE Pointnext Services' 15,000+ experts and its vast ecosystem of solution partners and channel partners are uniquely able to help you at every stage of your digital transformation. We bring together technology and expertise to help you drive your business forward and prepare for whatever is next.
Advisory and Professional Services help you accelerate your digital transformation. Operational Services help you remove complexity and respond rapidly to business demands.
Operational Services from
HPE Pointnext Services
HPE Pointnext Tech Care provides fast access to product-specific experts, an AI-driven digital experience, and general technical guidance to help enable constant innovation. We have reimagined IT support from the ground up to deliver faster answers and greater value. By continuously searching for better ways to do things—as opposed to just fixing things that break—HPE Pointnext Tech Care helps you focus on achieving your business goals.
HPE Datacenter Care
helps modernize and simplify IT operations. Partner with an assigned account team, access technical expertise, an enhanced call experience gives you priority access, choose hardware and software support, implement proactive monitoring to help stay ahead of issues, and access HPE IT best practices and IP.
HPE Proactive Care
offers an enhanced call experience and helps reduce problems with personalized proactive reports and advice. This also includes collaborative software support for Independent Software Vendors (ISVs), (Red Hat, VMWare, Microsoft, etc.). 
HPE Foundation Care
helps when there is a problem and has a choice of response levels. Collaborative software support is included and provides troubleshooting help for ISVs running on your server.
Defective Media Retention
is optional and applies only to Disk or eligible SSD/Flash Drives replaced by HPE due to malfunction.
HPE Service Credits
offers a menu of technical services, access additional resources, and specialist skills.
HPE Education Services
delivers a comprehensive range of services to support your people as they expand their skills required for a digital transformation.
HPE Greenlake is HPE's market-leading IT as-a-Service offering that brings the cloud experience to apps and data everywhere – data centers, multi-clouds, and edges – with one unified operating model. HPE GreenLake delivers public cloud services and infrastructure for workloads on premises, fully managed in a pay per use model.