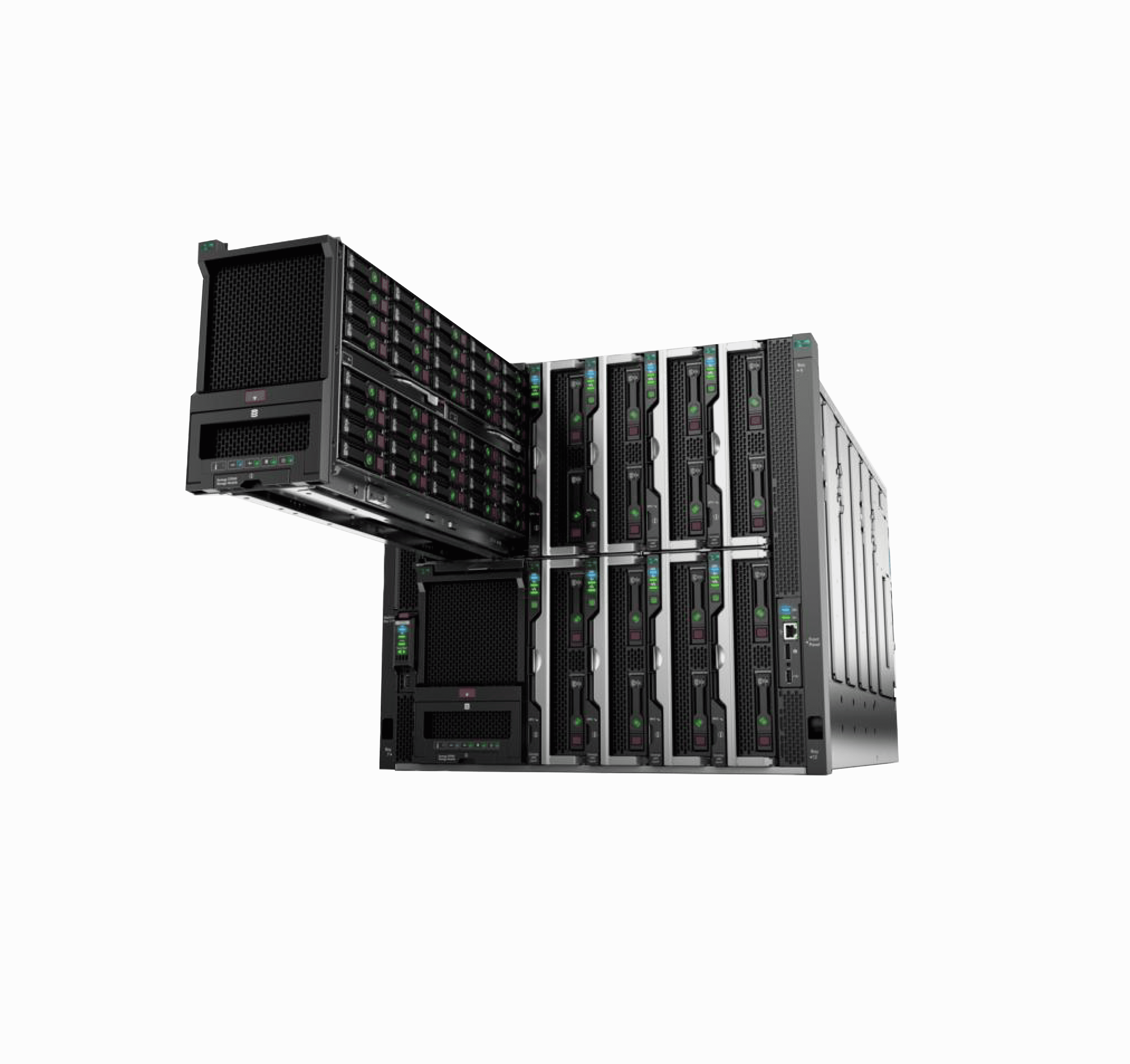 Does your IT infrastructure efficiently combine compute, storage, and networking/fabric resources with intelligence and security to meet your needs of today and tomorrow?

HPE Synergy 12000 Frames are uniquely architected as Composable Infrastructure (CI) to match the powerful 'infrastructure-as-code' capabilities of the HPE intelligent software architecture. Flexible access to compute, storage, and fabric resources allows for use and re-purposing. Linking multiple HPE Synergy Frames efficiently scales the infrastructure with a dedicated single view of the entire management network.

Creating multiple composable domains in the infrastructure can efficiently deliver available resources to the business. HPE Synergy Frames reduce complexity by using intelligent autodiscovery to find all available resources to accelerate workload deployments. This drives IT efficiency as the business grows and delivers balanced performance across resources to increase solution effectiveness.
Supports HPE Synergy 480 and HPE 660 Gen10 Compute Modules.

A guided installation experience is provided for setting up HPE Synergy.

Adds 2650W HVDC hot plug power supplies as an infrastructure option.

Product is now offered to comply with the Trade Agreements Act (TAA).
1. Optimize Applications and Service-levels
The HPE Synergy 12000 Frame is architected as a Composable Infrastructure (CI), which matches the flexible use of compute, storage, and network/fabric resources to an intelligent HPE management software architecture. These capabilities are presented as 'infrastructure as code' to the user.
The combination of hardware flexibility with embedded intelligence enables autodiscovery of all available resources for quick deployment and use. Management of hardware by profiles defined in software allows fast re-purposing of compute, storage and fabric resources to meet workload demands.
Operations which use a single frame can scale to large environments of multiple units. Intelligent frame link technology provides easy scaling from a single HPE Synergy 12000 Frame to multiple frames by using HPE Frame Link Modules and HPE Synergy Composer (powered by HPE OneView).
2. Move Faster by Accelerating Application and Service Delivery
The HPE Synergy 12000 Frame provides auto-discovery for fast deployments. The flexible design also allows you to custom-fit multiple types of compute, storage, and fabric components in a variety of configurations to meet your workload requirements.
Hardware installations are simplified by a simple step-by-step guided process and the intelligent HPE Synergy 12000 Frame design, which reduces the time to setup, debug, and check inventory during installation. A limited-access mode also guides technicians to correct installation errors.
High infrastructure bandwidth (over 16 Tb/s) helps you to perform well on today's data-intensive applications and on next-generation, mobile-first, cloud-native applications. The design also utilizes a true passive mid-plane to assure highlyreliable operation. And it's photonics ready!
3. Work More Efficiently by Reducing Operational Effort and Cost
The HPE Synergy 12000 Frame monitors status for operations by automatically reporting resources, installation information, and health status of the system or domain. Status is updated by the HPE Synergy Composer management appliance (which is powered by HPE OneView) via HPE Frame Link Modules.
Updates, from a tested release set of component software, are securely handled using a dedicated data network (separate from the management network) with redundant path configurations. HPE Synergy out-of-band management provides a dedicated 10Gbps bandwidth for additional security and control.
The HPE Synergy 12000 Frame will fit in data centers with AC or DC power operations. The 10U form factor of the HPE Synergy Frame also fits in most standard racks and connects to industry standard power feeds for quick and easy installation.
4. Unlock Value by Increasing Productivity and Control
The HPE Synergy 12000 Frame provides fully air-gapped management (control) and data (production) networks for improved data efficiency and for management security. Separation of data and management traffic helps prevent denial-of-service attacks and increases security control.
A single management domain is able to control many HPE Synergy Frames, and still have it presented as one. This can result in significantly fewer management uplink connections in larger environments.
Every HPE Synergy 12000 Frame includes an automated cooling system with capacity to cool both today's components and tomorrow's hotter versions. The HPE Synergy design has cooling capacity with headroom so as to not limit component operation and to keep your workloads operating at peak utilization.
Technical Specifications
HPE Synergy 12000 Frame
Fans included on all models
The 10U HPE Synergy 12000 Frame easily mounts into the same space as existing c-Class solutions today and uses the same datacenter resources for quick and easy installation.
HPE Synergy Appliances
Synergy Composer (OneView), Synergy Image Streamer, Frame Link Module-multi-frame link
3/3/3 – The warranty includes three years of parts, three years of labor, three years of onsite support coverage. Additional information regarding worldwide limited warranty and technical support is available at: http://h18004.www1.hpe.com/products/servers/platforms/warranty/index.html. Additionally, HPE support and service coverage for your product that can be purchased locally. For information on availability of service upgrades and the cost for these service upgrades, refer to the HPE website at http://www.hpe.com/support.
Most, if not all IT organizations are on a digital transformation journey — each at a different stage. With over 11,000 IT projects conducted and 1.4 million customer interactions each year, HPE Pointnext Services' 15,000+ experts and its vast ecosystem of solution partners and channel partners are uniquely able to help you at every stage of your digital transformation. We bring together technology and expertise to help you drive your business forward and prepare for whatever is next.
Advisory and Professional Services help you accelerate your digital transformation. Operational Services help you remove complexity and respond rapidly to business demands.
Operational Services from
HPE Pointnext Services
HPE Pointnext Tech Care provides fast access to product-specific experts, an AI-driven digital experience, and general technical guidance to help enable constant innovation. We have reimagined IT support from the ground up to deliver faster answers and greater value. By continuously searching for better ways to do things—as opposed to just fixing things that break—HPE Pointnext Tech Care helps you focus on achieving your business goals.
HPE Datacenter Care
helps modernize and simplify IT operations. Partner with an assigned account team, access technical expertise, an enhanced call experience gives you priority access, choose hardware and software support, implement proactive monitoring to help stay ahead of issues, and access HPE IT best practices and IP.
HPE Proactive Care
offers an enhanced call experience and helps reduce problems with personalized proactive reports and advice. This also includes collaborative software support for Independent Software Vendors (ISVs), (Red Hat, VMWare, Microsoft, etc.). 
HPE Foundation Care
helps when there is a problem and has a choice of response levels. Collaborative software support is included and provides troubleshooting help for ISVs running on your server.
Defective Media Retention
is optional and applies only to Disk or eligible SSD/Flash Drives replaced by HPE due to malfunction.
HPE Service Credits
offers a menu of technical services, access additional resources, and specialist skills.
HPE Education Services
delivers a comprehensive range of services to support your people as they expand their skills required for a digital transformation.
HPE Greenlake is HPE's market-leading IT as-a-Service offering that brings the cloud experience to apps and data everywhere – data centers, multi-clouds, and edges – with one unified operating model. HPE GreenLake delivers public cloud services and infrastructure for workloads on premises, fully managed in a pay per use model.